For a unique shower activity as well as completely custom artwork, try this project! Choose wooden letters to decorate the walls of the nursery (for example: the alphabet, baby's name, a short phrase). Next, pick paint colors that work with your nursery decor.

When it comes time for the shower, lay all the supplies out and have your guests go to town! All the letters will look great together because of the unifying paint colors you have already picked – plus – the best part is: no artistic ability needed! If a guest is shy about their creative inclinations, encourage them to simply paint their letter a solid color. It will serve as balance to finished letters with more going on.
Have everyone sign their names and/or write a message for baby on the back of their letters before they get painting. Now you have a fun shower project, custom nursery artwork, and a very sweet and personal keepsake. Happy painting!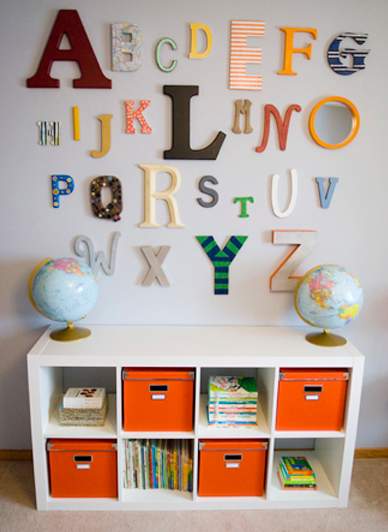 See more photos of this adorable nursery here.