Last week on our first edition of 'planning your nursery' we started with choosing a space and deciding on the general themes/feel of your nursery. This week we continue the project with planning the room.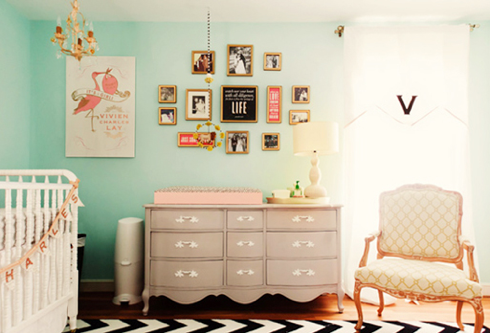 Photo of Vivi Charles' nursery from the Lay Baby Lay blog.
In planning out your space, there are a few things to look at initially:
1. Consider the size of your space.
A smaller space will require you to stick with the necessities and be a little more creative with space & storage. A larger room gives you more flexibility however without the right furniture and placement it can feel disproportionate. If the room is very large, you may want to consider designating part of the room for building a play space as baby gets older.
2. Decide what furniture you need/want in the room.
The basics are fairly obvious: crib, dresser/changing table, chair (many prefer a rocker or glider). Does the room have adequate closet space? If not, a wardrobe or other storage solution may be necessary. This is also the perfect time to consider if there are pieces you already own that you want to be included in the room.
3. Take measurements of the room and decide which pieces you want/need to invest more in.
We've all had at least one experience whether with ourselves or a friend/relative where the brand new piece of furniture purchased just refuses to fit into the room it was selected for. Make sure this doesn't happen in your nursery by taking careful measurements before you head out. It may help to sketch out a simple floorplan of the room with measurements noted.
Next, figure out what pieces in the room are worth investing more of your budget. For example, if you choose to use a dresser as your changer as well, this is a great place to invest a little more as it is a piece that can grow with baby. The crib however has a much more limited lifespan unless you plan to get one that transitions to a toddler bed or full bed.
Next Step: we'll discuss putting together a nursery budget in next week's edition of planning your nursery.
If you missed our 1st edition of planning your nursery, view it here.
Don't forget to take a minute to add your votes over at Top Baby Blogs!