To continue this week's pink theme, today we have some fabulous pink snacks! Coming up with delicious, healthy, and easy snacks for the little ones in your life is a constant process so today we have 10 great recipes to share. While most snacks should focus on being healthy (as well as tasty) we did include a couple of sweet treats – good candidates for a special dessert!
Ingredients
1/2 C smooth peanut butter
1 C plain low-fat yogurt
1 C reduced-fat milk
2-4 T honey, divided
2 t vanilla extract
1 – 1/2 C raspberries
2 C raspberry juice
1/4 C sesame seeds or crushed peanuts (optional
See here for directions to turn these ingredients into this yummy treat!
Hummus & Dippers
Hummus is a great snack for kids and adults alike. Made from pureed chickpeas, it also contains Vitamin B6 and iron. For a "pink" twist, add some red food coloring for a festive hue. Serve with sliced up cucumbers and carrots, triangles of wholewheat pitas, and pink goldfish crackers!
Ingredients
8 oz. vanilla non-fat yogurt
1 C frozen strawberries or peaches
1/4 C orange juice
Optional: 1 banana, sliced. Lemon juice to taste. Directions: In blender, whip all ingredients together. Serve immediately in glasses.
Trail Mix
The beauty of trail mix is that you can use practically any dry ingredients mixed together depending on your family's preferences. Here are some suggestions for a pink-tinted trail mix:
Strawberry Yogurt Burst Cheerios, dried cranberries, golden raisins, pretzels, pink M&M's, nuts (almonds or peanuts are my favorites), granola or small crackers.
Pink Polka-dot Waffle Sticks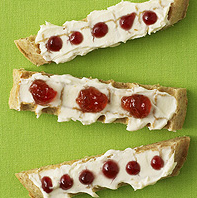 Ingredients
Whole grain waffles
Strawberry Cream Cheese, reduced fat
Blackberry or raspberry jelly
Directions: Cut cooked waffles into strips and spread with cream cheese. Add small dots of jelly along the length of the waffle. Serve and enjoy!
Yogurt Pops
Ingredients
2 C low-fat vanilla yogurt
1 C assorted berries (raspberries, strawberries – chopped, blackberries, blueberries)
6 pretzel rods or baked snack crackers
Directions: In a large bowl gently stir together the yogurt and fruit. Spoon into 4-ounce ice-pop molds or 3-ounce paper cups. Cover molds or cups with foil; use a sharp knife to cut a small hole in the foil and insert cut side of pretzel rod or snack stick. Freeze until firm. Remove foil and mold or cup before serving. Makes 6 pops. Recipe from Parents.com.
Watermelon Cooler Slushy

Ingredients
4 C cubed seedless watermelon
10 ice cubes
1/3 C lime juice
1/4 C sugar
1/8 t salt
Directions: Blend all ingredients in blender until smooth. Serve cold in glasses garnished with a small watermelon slice. From allrecipes.com.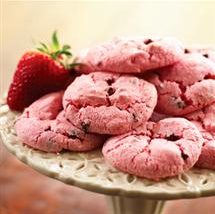 Strawberry Angel Cookies
Ingredients
16 oz. package Angel Food cake mix
3/4 C strawberry jam or jelly
3 T mini semi-sweet chocolate chips
See here for baking directions from smuckers.com!
Strawberry Cream Freeze
Ingredients
1 (8 ounce) package cream cheese, softened
1 cup cold milk
1 (3.4 ounce) package JELL-O Vanilla Flavor Instant Pudding
1 1/2 cups thawed Whipped Topping
20 vanilla wafers, coarsely broken
1 cup sliced fresh strawberries
1/2 cup strawberry ice cream topping
Directions: Make the filling: Beat cream cheese in large bowl with mixer until creamy. Gradually beat in milk. Add dry pudding mix; beat 2 minutes. Stir in COOL WHIP, wafers and berries. Swirl in ice cream topping.
To serve, MINI PIES: Spoon filling into 12 cupcake liners. Freeze 4 hours. Remove paper linings. Garnish desserts with additional berries, if desired. Makes 12 servings. WAFFLE BOWLS: Freeze filling 6 hours or until firm. Let stand 15 min. before scooping into waffle bowls. Makes 8 servings. From allrecipes.com.
Jello Gummy Cups
Ingredients
4 boxes of raspberry or strawberry jello
Assorted pink & red gummy candies
Directions: Prepare jello mix according to package directions. Pour into clear plastic cups. Chill for 20 – 30 minutes. Press gummy candies into jello and return to refrigerator to chill for additional 3-4 hours.
For a fun variation: Use blue raspberry jello mix and fish/shark gummies for an under-sea treat!